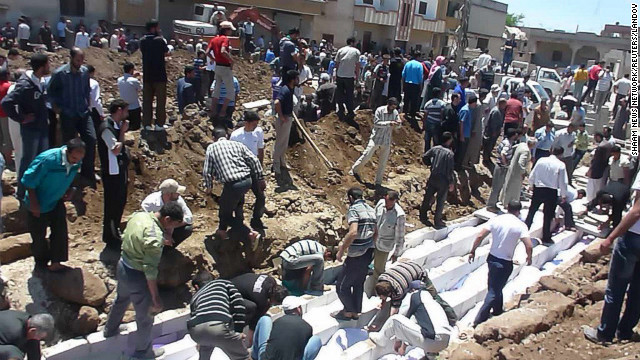 Mass burial for those killed
A brutal massacre in the Syrian town of Houla left more than 100 people dead, many of them women and children. Syria has being under spotlight for Months now after demonstrations requesting for the removal of President Assad started. There have being several cases of the military attacking civilians but this recent attack on the city of Houla is by far the most brutal.
Rupert Colville, a spokesman for the U.N. human rights office, said the majority of victims died as a result of "summary executions" in which "armed men... went house to house, killing men, women and children."
Syria has denied responsibility for the massacre, which it insists was carried out by "terrorists." Countries around the world have expelled Syrian diplomats in protest at the killings.
I hope this is over soon and the people responsible made to face justice and if it is truly Assad that is responsible then, he most likely will end up like Mubarak!
Continue to see pitures of some of the children killed. Please be warned, they are very graphic.